Bridge Creek Cottage opened to rave reviews in 2005 and has been a favorite retreat for scrapbooking ever since. What sets Bridge Creek Cottage apart? Our enormous craft room! Let's face it… scrapbookers have a lot of stuff that they bring on retreat! Our 1,100 square foot craft room has plenty of space for 20+ guests to spread out. There is a 23' counter for additional work space or display, along with additional tables for Cricut and Sizzex stations. Here is a list of our craft room amenities: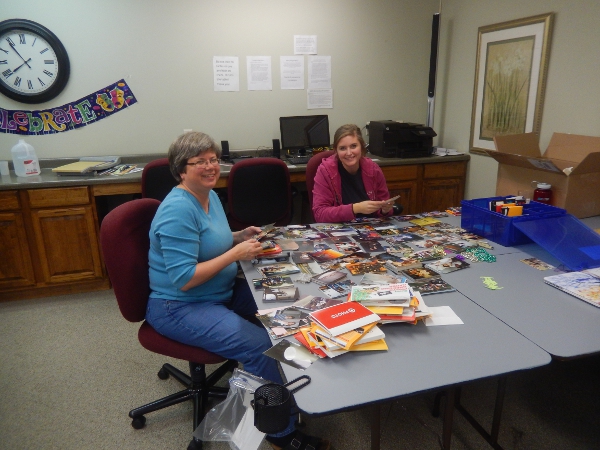 Drive-up access with a ramp available
Bright, even lighting 
Additional Ott lights 
Four additional tables 
23' counter for work or display
Counter-height cutting table with mats
5' tables and fully adjustable chairs for 20 guests
Cup and trash holders at each table
Wall of windows overlooking the creek
Computer/printer/scanner
WiFi
Surround sound stereo/CD player
I-joy massage chair
12x12 Cricut and Sizzex with several alphabets
12x12 paper cutter and additional tools to fuel your creativity
Separate furnace/air-conditioning for the craft room
Refrigerator and snack refrigerator for your beverages and snacks
Our craft room is set in its' own wing, so you can create all night without disturbing anyone in the main Cottage. Our guests also enjoy many smaller gathering areas for meeting with friends old and new. There is a sitting area on the upper floor, a main floor living room, a lower level family room, two large back decks over looking the creek and three separate front patios to enjoy the gardens. Many have shared that the Cottage flows wonderfully and easily supports twenty guests without ever feeling crowded.
Come see for yourself why so many scrapbookers have made Bridge Creek Cottage their retreat home!