We want to do whatever we can to make your time at Bridge Creek Cottage a wonderful, productive and memorable experience.
---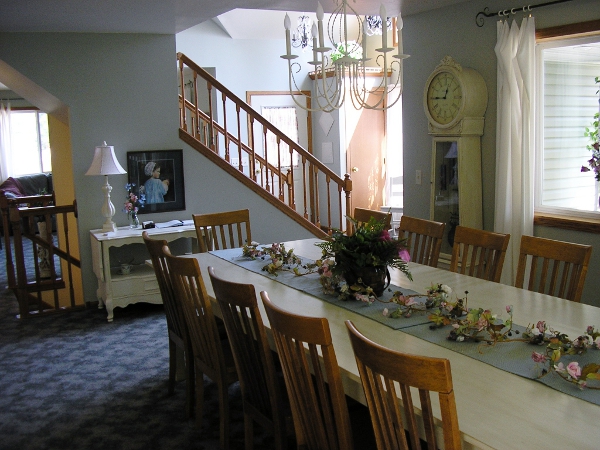 Is Bridge Creek Cottage just for scrapbookers and quilters?
Bridge Creek Cottage was created with quilters and scrapbookers in mind. However, the beautiful and spacious facility and tranquil setting make it a great place for artistic or crafting groups, business meetings, seminars, spiritual retreats, or family reunions.
What times are check-in and check-out?
The cottage is guaranteed to be ready by 3:00 PM on your arrival date. However, we can always accommodate an earlier start time in the craft room while our caretaker finishes up in the main cottage. We often can accommodate an early morning check-in if the cottage is not occupied the day before your arrival. Our check-out time is 5:00 PM, giving you a full day of crafting on your day of departure.
What should I bring?
Leave your watch and worries at home. Just bring your clothes, toiletries and crafting supplies. All bedding and towels are provided. As members of your group may have different temperature preferences, you may want to bring a light sweater or sweatshirt. 
We supply dishes and silverware. 
You may want to bring ice, coffee and paper plates/plastic silverware. Bridge Creek Cottage has two coffee makers and a Keurig and supplies coffee filters, and all other paper products.
What are your policies about smoking or pets?
Bridge Creek Cottage is smoke-free. We ask that you leave your pets at home.
Anything else?
We want you to have a wonderful experience at Bridge Creek Cottage. If there's anything we can do to help, just ask!
---
Call Anita Norha at (715) 529-3344 if you have any additional questions.