Creative juices start flowing when you enter the Craft Room at Bridge Creek Cottage. We are excited about our Craft Room and think you will be too! The 1,100 square foot main floor Craft Room has a wall of windows overlooking the creek. You'll feel like you are in the middle of a secluded woodland. 
Amenities include:
Bright, even lighting throughout the room.
High speed internet and WiFi.
Twenty 5' tables and comfortable, adjustable chairs for each.
A 23' counter providing ample display space.
Computer workstation.
Color printer/copier/scanner.
Three design walls.
5' square counter-height cutting table with mats.
4 Big Boards and irons.
Power strips and extension cords.
CD/i-pod player with surround sound.
i-joy massage chair.
The Craft Room has its own heating and air conditioning system to ensure the perfect climate.
Our cupboards offer Cricut 12x12 and Sizzix among other tools to fuel your imagination!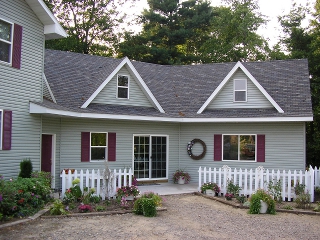 Especially designed for comfort and functionality, this beautiful room is set in its own wing so that you can create to your heart's content without disturbing those who are sleeping! 
The Craft Room is wired to support 20 crafters and all of their equipment. You can pull your car directly up to the Craft Room to unload your supplies.
This fabulous room can meet a variety of needs. Reconfigure the tables for seminars, spiritual or business retreats and banquets. Remove them entirely to accommodate activities like yoga or tai chi.
Enjoy the comforts of home and be inspired by your beautiful surroundings!